泰莉行創辦於七零年中,當時之經營方式已堅持所有新鮮蔬果必須由泰國直接空運到港,然後轉交泰國餐廳。發展至今,本公司除已轉為批發形式外,更在泰國設立分公司和擁有自己的椰子園,故所有新鮮蔬果,罐頭食品及什貨產品,均可以更低廉的價格令顧客受惠。更進一步可為客戶代訂具有泰國特色的餐具、廚具、煮食器皿、餐桌、餐椅、燈飾,畫像、以至佛像等,各式其式,林林總總,應有盡有。
本行現時所代理之泰莉牌椰青,乃直接在椰子園採摘後,即時入貨櫃運港,本行並備有多部貨車每天不停穿梭港九新界,確保所有貨品新鮮直接供應到各批發商、酒店及餐廳。
<![if !vml]>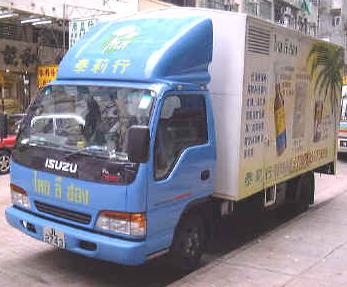 <![endif]>現本行經泰國授權代理之產品包括:
泰莉牌金邊粉、泰莉牌米粉、泰莉牌椰青、泰莉牌椰糖、泰莉牌咸水蒜頭、泰莉牌甜辣雞醬、泰莉牌黑及白糯米、金珠太太豬肉鬆、特級青咖喱及紅咖喱、罐裝椰汁及紙包椰汁、金露牌純正魚露及金魚魚露等。 於2004年,泰莉牌®商品已獲知識產權署商標註冊處證明為註冊商標,如發現有偽冒者,定必追究。
歡迎各批發商,果商,泰式什貨店,餐廳東主親臨或來電敝店查詢有關的資料和價目,現可暫在此綱頁溜灠一下敝公司之貨品作為參考,謝謝。
此外,由2006年1月1日起,本行已撤銷深圳市大亞洲貿易有限公司為本行之全中國總代理,如欲查詢本行之產品,請直接與本行聯絡。
Our company was founded in 70's. The main business is importing fresh fruits and vegetables by air cargo and supply to Thai Restaurants directly. And now 2000, We are not only the supplier but also the wholesaler. We can directly offer the wholesale price to all Thai's Restaurant, the Wholesaler of the Thai's store, fruit store, etc…

To ensure the quality of our products, we owned our factory and coconut garden in Thailand, producing canned food and fresh young coconut by us, and export to Hong Kong frequently. Meanwhile, our company produced a series of products as Thai Lee Brand®, like Rice Stick, Rice Vermicelli, Young Coconut, Coconut Sugar, Pickled Garlic, Sweet Chili Sauce for Chicken, Green and Red Curry, Black and White Glutinous Rice. We are the sole distributor of some famous products in Thailand as well, such as "Mae Kimju" Shredded Pork, "Chaokoh" Canned Coconut Milk and "ThongTip" Fish Sauce.

By 2004. Thai Lee Brand® was certified as a registered trade mark in the Trade Marks Registry of Intellectual Property Department, legal action will be taken if any fake products are found.

Our goods are warehoused in a clean and organized facility, where your orders are packed and delivered immediately after we received. Our long term objective is to continue "doing what we're doing"--providing a growing number of consumers the ability to buy a greater selection of high quality products at the lowest prices, as well as featuring a large selection of authentic recipes for you to enjoy.

All Thai's Wholesaler, Fruit Wholesaler, Thai Store and Thai Restaurant are welcome to visit or phone us for more information as well as the price about our products. We hope you enjoy our growing website. Please come often, as we are constantly adding to our product mix, we would be appreciated if you send us an email for any comments or suggestions. We will respond to all queries as soon as possible.

Starting from 1st January 2006, Big Asia Trading Company Limited is no longer our sole agent in Shenzhen, China. If you are interested in our products, please contact us directly.